March 3, 2023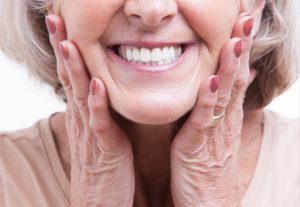 If you have had to restore your smile with dentures, you are not alone. According to U.S. Census Data from 2020, roughly 41 million Americans wore dentures. This tooth loss solution not only gives you back your self-confidence, but everyday functions such as eating and talking. However, no matter how well you take care of them, your dentures won't last forever. Eventually, you will notice they may not fit as well or are worn down. Read on to learn five signs that it may be time to get a new restoration.
#1. Your Dentures Feel Loose and Even Fall Out Sometimes
Modern technology has made dentures more comfortable and well-fitting than ever. They are custom designed for your specific mouth and should fit snugly due to their natural suction. However, unless you have implant dentures, you may begin to feel your dentures become loose over time. This can be caused by your jawbone changing as the years pass. If your restoration is not fitting as it should, it won't stay in place, making it difficult to speak and chew. It's important to go visit your dentist if your dentures aren't staying in place so you can get back to enjoying a firm fit again!
#2. You're Uncomfortable While Chewing
One of the many benefits of completing your smile with dentures is the ability to enjoy a wide variety of foods again. A full set of teeth is not only aesthetically pleasing but helps you stay strong and healthy by enjoying nutrient-dense foods. Unfortunately, if you are unable to chew your food with ease due to your dentures, it can be a sign they need to be replaced.
#3. Your Dentures Have Broken Teeth
Dentures are built to give you a long-lasting smile but they are not indestructible. You may accidentally drop them on the hard floor as you take them out at night or maybe you accidentally crack a tooth while eating. The good news is that a fractured denture may be able to be repaired. Be sure not to take matters into your own hands and attempt to fix them yourself; this can cause more damage—to the restoration and your smile!
#4. Your Mouth has Sores
Dentures give you the full functionality of real teeth because it distributes the pressure of your bite all throughout your mouth. Unfortunately, ill-fitting dentures can cause excessive pressure on only certain areas of your mouth, resulting in uncomfortable sores. This is usually a sign that your dentures need to be upgraded.
#5. Your Dentures Cause Gum Irritation
Do you have inflamed gum? Perhaps they are bleeding? If so, your dentures may be not fitting as well and rubbing against the soft tissues of your mouth. This can be a warning from your mouth that it's time for a new restoration. Be sure to visit your dentist so they can get to the root of the issue and get you back to a comfortable, happy smile again!
About the Author
Dr. Neelima Ravi and her team at Oceanside Family Dental keep the smiles of Hampton healthy, whole, and beautiful! She earned her Doctor of Dental Medicine degree from the Boston University Goldman School of Dental Medicine and earned a Fellowship award with the Academy of General Dentistry, which only 6 percent of dentists in the U.S. and Canada have achieved. With a focus on high-quality dentistry done with extra care, she offers a full range of services, including partial, full, and implant dentures. To schedule an appointment, contact her through her website or call (603) 926-1551.
Comments Off

on 5 Signs You May Need to Upgrade Your Smile with New Dentures
No Comments
No comments yet.
RSS feed for comments on this post.
Sorry, the comment form is closed at this time.