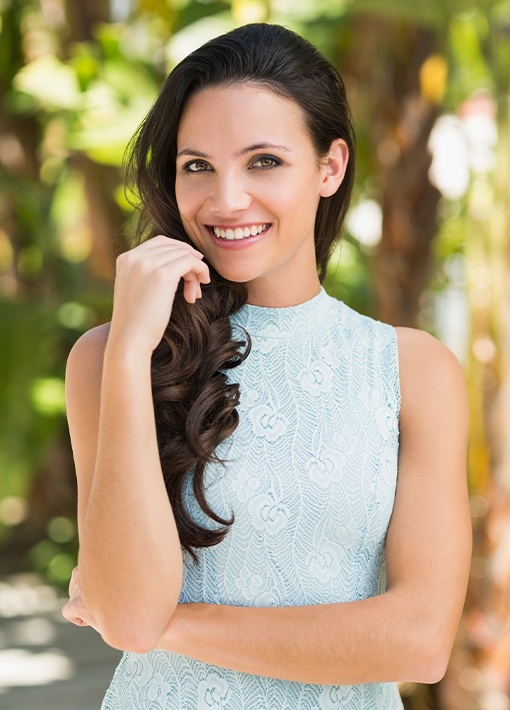 Dental Crowns – Hampton, NH
How Dental Crowns Can Save Your Smile
In simple terms, dental crowns are essentially synthetic caps that are placed on top of damaged teeth. They are usually made from porcelain, however, they have been made with many different materials over the years. Dental crowns in Hampton, NH are mainly used to restore the function of teeth as well as their appearance. If significant decay is present and large portions of the tooth need to be removed, a crown can fully restore it.
Why Choose Oceanside Family Dental for Dental Crowns?
Same-Day Crowns Available with PlanScan Technology
Implant-Restorations Provided for Those Treating Tooth Loss
Laser Dentistry Improves Efficiency and Comfort of Treatment
How Do We Use Dental Crowns?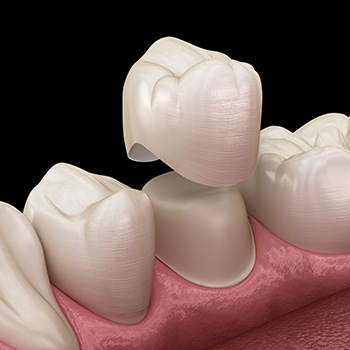 Crowns can be used to fix a single tooth or build more complex restorations, including dental bridges. They can also cover dental implants after they're placed, stop teeth from cracking, and replace a dental filling that was at risk of falling out or becoming loose. If a tooth is severely stained or discolored, dental crowns are also ideal for hiding these imperfections.
What is the Procedure Like?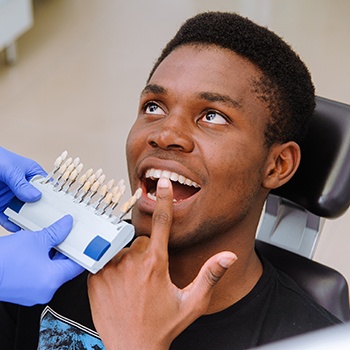 Traditionally, the process of getting a dental crown required at least two appointments spaced a week or two apart. Thankfully, Oceanside Family Dental is now able to provide extremely high-quality crowns in just a single appointment using PlanScan technology.
When a patient comes to see us, we'll evaluate their tooth, scan it, and then use sophisticated software to design their crown. This plan will then be sent to an in-house milling machine which will precisely sculpt the crown from a single piece of dental porcelain. The crown will then be placed into the mouth, and it will be done. Altogether, the process only takes about an hour.
How to Care for Your Dental Crowns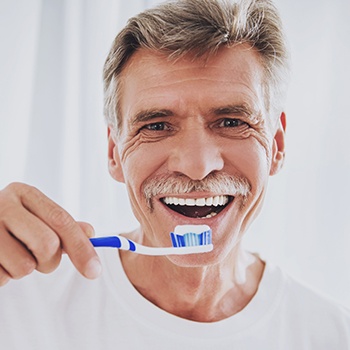 High-quality crowns should last a minimum of eight years if you take proper care of them. Always remember to floss the area where the crown and natural tooth come together as plaque and debris can collect around the restoration.
Additionally, certain behaviors can dramatically shorten the lifespan of a crown, including jaw clenching or bruxism, also known as teeth grinding. You also want to avoid munching on extremely hard items, such as ice or certain candies. This can negatively affect the adhesive of the crown and even damage it.
Dental Crowns FAQs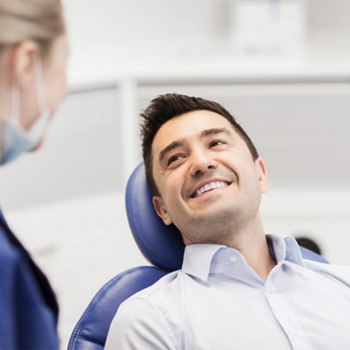 Interested in getting a dental crown from your restorative dentist in Hampton? From improving your appearance to protecting your tooth and offering durability, there's a lot to like about adding a crown to your smile. At Oceanside Family Dental, we'll go over all the details of this choice during your consultation so you can feel confident in your decision. Before you even sit down with our Dr. Neelima Ravi, keep reading to check out some frequently asked questions from our patients about dental crowns.
Do Dental Crowns Get Cavities?
While it's technically impossible for a crown to develop a cavity, the tooth underneath it still could. A crowned tooth has a similar risk of decay compared to an uncrowned one. Poor oral hygiene makes it possible for bacteria and plaque to form where the tooth meets the crown; if they spread underneath the crown, it could mean major trouble for the tooth. Cavity prevention for crowned teeth is the same method as uncrowned – daily brushing and flossing with regular checkups and cleanings.
Does It Hurt to Get a Dental Crown?
Your dentist numbs the tooth they need to work on when you get a crown. That usually means a topical anesthetic, but if you have severe anxiety, they may use dental sedation. Of course, they'll check to see what you prefer. After your tooth is prepped for a crown, it may be sensitive for a few days, particularly if you also had a root canal. Since a crown protects a vulnerable tooth from damage, in the long run, it will likely prevent pain instead of causing any!
What Happens If You Wait Too Long to Get a Dental Crown?
Waiting too long to get dental crowns in Hampton can have some detrimental consequences on your oral health and your wallet. For example, if the root of the problem is decay, the infection can continue to delve deeper into the tooth, increasing your risk of needing a root canal or an extraction. Therefore, it's always best to schedule the procedure sooner rather than later.
How Do You Know When a Dental Crown Needs to Be Replaced?
The only way to know for certain whether your dental crown needs replacement is with X-rays or by having it physically examined by Dr. Ravi. Of course, keep an eye out for the following warning signs as they can indicate your restoration is nearing the end of its lifespan:
Pain – If the underlying tooth is decayed, the crown will need to be removed so the cavity can be treated.
Instability – You should contact Dr. Ravi right away if your crown feels loose, especially when chewing something sticky.
Worsened Appearance – A noticeably chipped or discolored crown will need replacement.
Dark Line at Base – The porcelain on porcelain-fused-to-metal crowns may wear away, revealing the darker metal portion underneath. That indicates the crown may need replacement in the future.