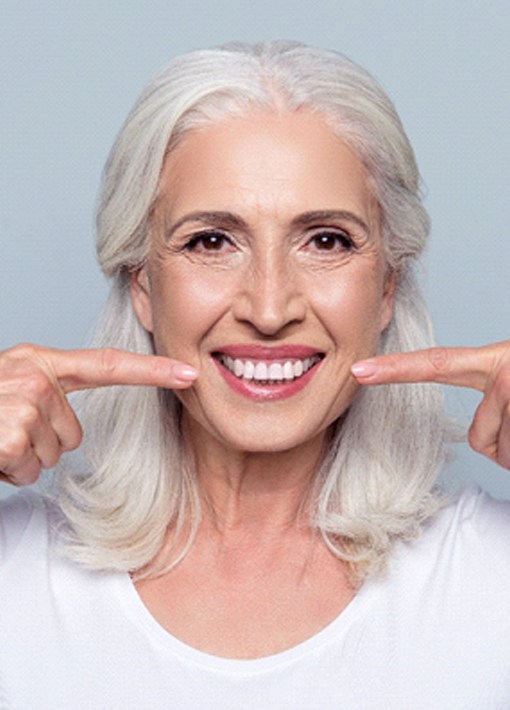 Porcelain Veneers – Hampton, NH
Transform Your Smile's Confidence & Shine
Are there just too many things about your pearly whites you want to improve? Dr. Neelima Ravi, DMD, FAGD have the comprehensive solution for addressing several flaws at once: porcelain veneers. With these ultra-thin sheaths, you can hide everything from chips to cracks to stains so that all anyone else sees is your dazzling grin. Thinking about getting a smile makeover? Contact Oceanside Family Dental today to learn more about porcelain veneers in Hampton.
Why Choose Oceanside Family Dentistry for Porcelain Veneers?
Lifelike, Stain-Resistant Restorations
Flexible Office Hours
Custom-Made Treatments for Every Smile
What are Porcelain Veneers?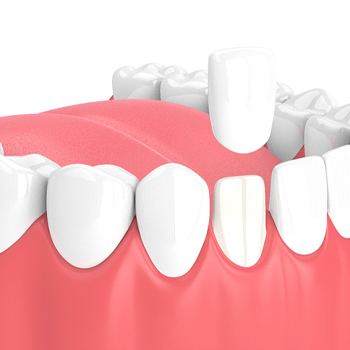 Unlike dental crowns that cover the entire tooth, a veneer is only placed on the front – in other words, the part that's visible whenever you flash a smile. Today's veneers are normally made out of porcelain because of its many aesthetic advantages; not only can it be shaded to resemble a natural tooth as closely as possible, but it's also highly stain-resistant compared to your enamel. That means your veneers won't be easily discolored by dark-colored foods and beverages.
Since veneers actively cover the front of the tooth, they're an excellent option to address multiple flaws at once and are usually suggested to patients who want to make extensive changes.
Who is a Good Candidate for Porcelain Veneers?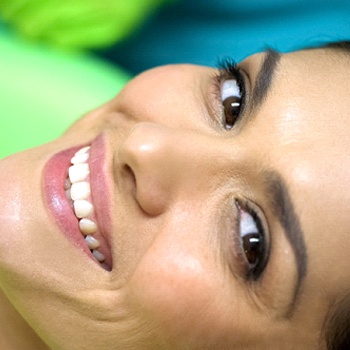 You may want to consider getting porcelain veneers if you suffer from one or more of the following issues:
Severely stained or discolored teeth that don't respond to whitening
Minor chips and cracks that affect the tooth's appearance
Teeth that are misshapen in some way
Small gaps between your teeth
Mildly crooked teeth
It's also important to be in good overall oral health before veneers are placed; Dr. Neelima Ravi, DMD, FAGD will check your teeth and gums for signs of decay or infection, which will need to be treated first. Also, the teeth that will receive veneers need to have enough enamel for the veneers to bond to.
What is the Procedure Like?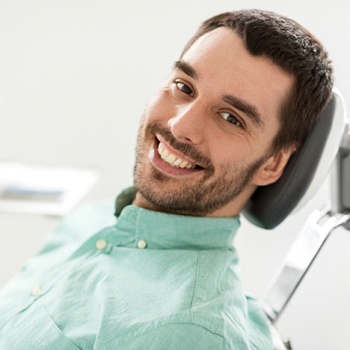 Getting veneers usually takes two appointments. During the first visit, we'll need to prepare your tooth by removing a small amount of enamel equal to the thickness of the veneer that you'll receive. We can thin take an impression of your tooth. The impression is sent to a lab where the veneer is made, which can take around two to four weeks. You might wear temporary veneers while you're waiting.
You'll receive your veneers during the second appointment. After adjusting the color and the shape so that it blends in with the rest of your smile, we'll bond the veneer to your tooth using a special cement that's hardened with a beam of light.
Advantages of Porcelain Veneers
Veneers provide a natural appearance; most people won't even notice that you've received dental work.
Porcelain resists stains well, and it won't irritate your gums.
We can customize the color of your veneer to make a dark tooth appear whiter.
Veneers typically require less preparation and enamel removal than dental crowns.
You can expect your veneers to last for about 7 to 15 years.
Porcelain veneers don't require any sort of special care.
Porcelain Veneers FAQs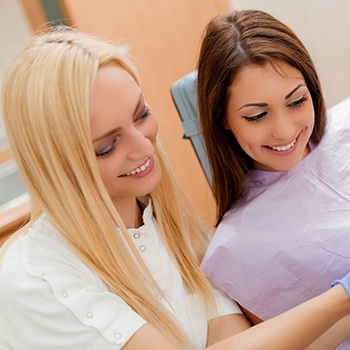 Do you have a few questions before upgrading your smile with porcelain veneers? Our team at Oceanside Family Dental is here to help! If you have specific questions you would like answered, don't hesitate to contact our office and schedule a one-on-one appointment with our knowledgeable staff. However, if you would like a bit more information before moving forward, read on for the most frequently asked questions about porcelain veneers in Hampton.
How Long Do Porcelain Veneers Last?
Porcelain veneers are widely known for their natural-looking appearance and ability to correct a multitude of cosmetic issues in one treatment, but how long do they last? Typically, the answer is between 5-10 years. However, they can last significantly longer with proper care! Therefore, make sure to brush twice a day, floss daily, and visit us every six months for a thorough exam and professional cleaning.
Should I Avoid Any Foods with Porcelain Veneers?
Veneers are custom-made from the highest quality materials that are as durable as they are life-like. However, they aren't indestructible. With this in mind, it is advantageous to stay away from hard foods, like almonds, which can fracture your veneer. A few other best practices include avoiding sticky candies, pigmented beverages, and bad dental habits (like chewing ice). Instead, stick to nutrient-dense, vitamin-rich foods that will keep your teeth strong from the inside-out.
Does Getting Porcelain Veneers Hurt?
Whether it's a simple cleaning or a complex cosmetic treatment, one of the first questions we hear from patients is, "Will it hurt?" Fortunately, Dr. Neelima Ravi, DMD, FAGD (our cosmetic dentist in Hampton) and our entire team are dedicated to making sure you are comfortable from the moment you sit in our treatment chair to the last step of the healing process. That starts with a numbing agent before the veneers are placed and over-the-counter medication to alleviate any gum or jaw soreness after your procedure. Every step of the way we will go above and beyond to ensure your experience is just as seamless as your new smile!
What Happens If One of My Veneers Comes Off?
Although rare, a veneer can come off unexpectantly. If this happens, it is important not to panic. Instead, save the veneer and call our office right away. Until you are able to come in for treatment, you may experience sensitivity to hot and cold beverages, which is completely normal. However, do not use crazy glue under any circumstances to adhere the veneer back to your tooth!
How Much Do Porcelain Veneers Cost?
Since each smile is unique, the cost can vary. What cosmetic concerns are you looking to address? How many teeth need veneers? The answers to questions like these will determine the final price. Fortunately, you can find out the total fee by scheduling an initial consultation! That way, we can provide you an answer tailored to your unique smile goals without including anything you don't need.