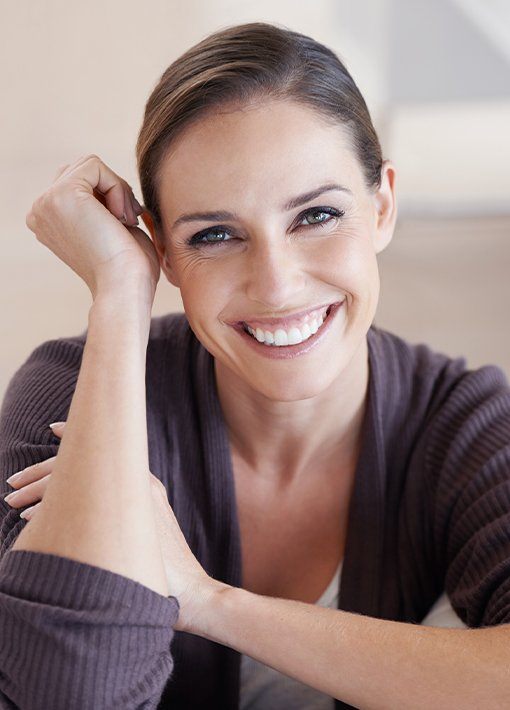 Dental Implants – Hampton, NH
Restore Teeth from the Root to the Crown
Many people do not realize how much of a difference it makes when you replace the root and crown of a tooth versus just the crown. This is how dental implants in Hampton, NH work, and it ensures longevity and creates the most lifelike tooth replacement available today. At Oceanside Family Dental, Dr. Neelima Ravi will discuss your concerns in great detail, then create a treatment plan that will reverse your tooth loss for a lifetime to come.
Why Choose Oceanside Family Dental for Dental Implants?
Experienced In-House Periodontist Places Implants
Digital Impression Scanner Technology for More Convenient Treatment
Soft Tissue Laser Allows for Better Precision and Faster Healing
Benefits of Dental Implants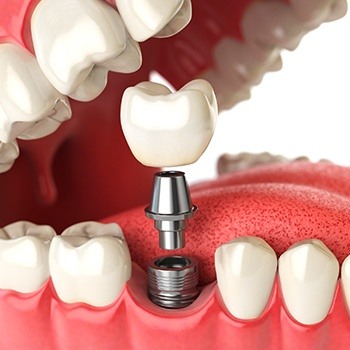 Dental implants are the only tooth replacement option that restores the tooth root, which sits underneath the gum tissue and integrates with your jawbone. As a result, you can expect a long-lasting restoration that you can always rely on. In fact, most dental implants last a minimum of 25 years, but it's not uncommon for them to last a lifetime. When placed by a professional, they have an average success rate of about 95% and higher.
Furthermore, because they are anchored within the jawbone, implants make chewing your favorite foods feel natural regardless of the type of food. Steaks, apples, nuts, corn on the cob, you name it – you'll be able to enjoy it because your biting force will be restored to the fullest. And, unlike dental bridges, we don't have to modify existing tooth structure to support an implant because the titanium post is strong enough to hold any type of restoration.
Indications for Dental Implants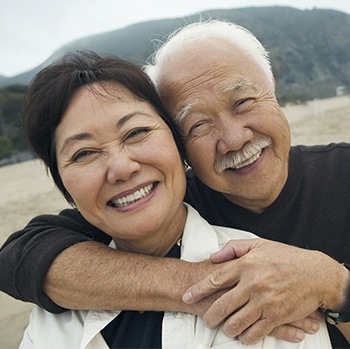 Dental implants aren't exclusively for those missing single teeth. Thanks to their versatility, you can replace multiple consecutive teeth and even all the teeth in your arch using dental implants. Here's how we get it done: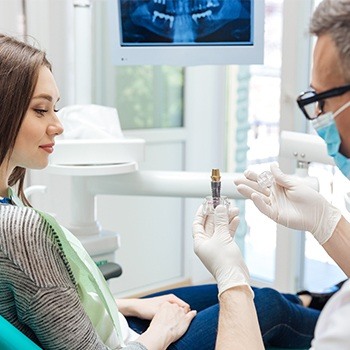 Missing Single Tooth
Replacing a single tooth requires one titanium implant placed inside of the jawbone, which is given a few months to heal. Once the mouth is ready, we place an abutment (connector) on top of the implant so the restoration has a stable foundation. Finally, the porcelain crown is attached, and your smile is fully restored.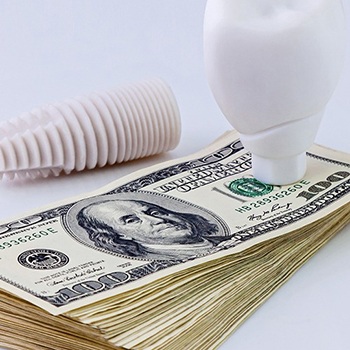 Missing Multiple Teeth
A pair of dental implants can hold an implant-retained bridge, which can consist of as many as three replacement teeth. Since the implants have the strength to support the bridge on their own, no modification of existing tooth enamel is required. This is ideal if you already suffer from extensive erosion or tooth sensitivity.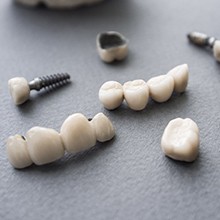 Missing All Teeth
Even those who are missing all the teeth in their mouths can rebuild their smiles with dental implants. By placing a series of implants (typically four to six) throughout the jawbone in the most strategic way possible, we can create a stable foundation for a full or partial denture to snap onto. This means no more adhesive is needed to keep your denture in place.
How Dental Implants Work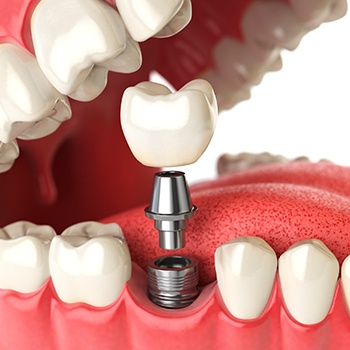 During your consultation, our team will listen to your concerns and create a treatment plan that works for you. Our in-house periodontist, Dr. Charles Braga, will perform the placement portion of your treatment in our dental office for your convenience. After your jawbone has had time to heal, Dr. Ravi will attach an abutment to the implant. This will attach your new teeth directly to the post. Keep in mind that the length of your treatment will vary depending on the complexity of your restoration (i.e. a single tooth implant vs. a 3-unit bridge).
Understanding the Cost of Dental Implants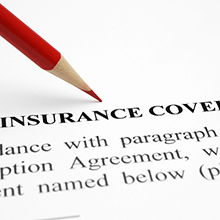 There are many different types of dental implant treatment, and they each have their own unique price. For example, those who need multiple implants to restore numerous teeth will pay more than a patient pursuing a single implant. Furthermore, preparatory treatments like gum grafts may be necessary as well to ensure a patient can safely receive dental implants, which will influence the overall cost. If dental implants seem expensive, it's because they are designed to be a long-term investment that lasts for decades. This can rarely be said for either dentures or dental bridges.