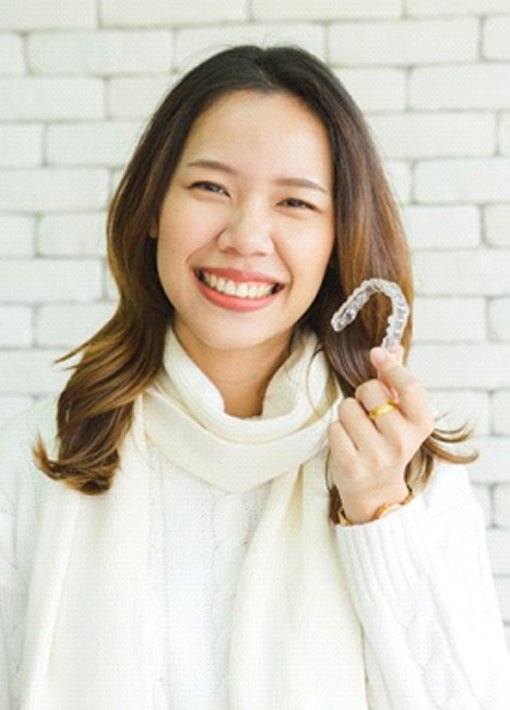 Invisalign Clear Braces – Hampton, NH
We Can Discreetly Straighten Your Teeth
Have your crooked teeth been bothering you lately? Maybe you've always wanted a straighter smile, but you've been deterred from seeking orthodontic treatment because you want to avoid the uncomfortable brackets and wires of traditional metal braces. If so, you're not alone. More and more often, we have been treating teens and adults alike with Invisalign in Hampton. In addition to being more cosmetically pleasing, Invisalign offers a whole host of benefits, such as being able to fit more seamlessly into most lifestyles. If you're interested in discreetly straightening your teeth without the hassle of metal braces, contact us to schedule an Invisalign consultation today.
Why Choose Oceanside Family Dentistry for Invisalign?
Nearly Unnoticeable Treatment
Removable for Easier Brushing and Flossing
Dental Office Features Flexible Hours
How Does Invisalign Work?
Invisalign utilizes clear plastic aligner trays that are worn over the teeth to subtly shift them into a more aligned position over the course of about a year. The process is simple. You'll wear your aligners for about 20-22 hours a day, essentially only removing them to eat, drink, brush, and floss. This allows them to easily fit into practically any lifestyle.
Each set of aligners in the series focuses on shifting a small portion of your smile until the whole thing is perfectly straight. You'll wear each set for about two weeks before moving on to the next one. You won't have to visit us for adjustments as you would with traditional braces. Instead, your appointments will focus on measuring your progress and receiving your next series of aligners.
Are You a Candidate for Invisalign?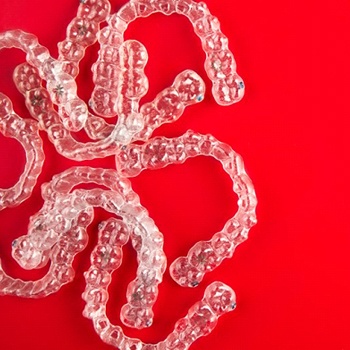 Many orthodontic issues can be corrected with Invisalign, including:
Bite Alignment
Issues with the overall bite alignment place undue pressure on the jaw joint, leading to teeth grinding, jaw clenching, and rapid erosion of the tooth enamel. Invisalign can correct overbite, underbite, and crossbite to prevent these problems.
Spaces Between Teeth
Not only is a gapped smile considered unattractive, but it also makes it easier for bits of food to get stuck in the spaces and cause bad breath, tooth decay, and gum disease. Invisalign can push the teeth back to where they need to be.
Crowded Teeth
Teeth that are too close together can be difficult to brush and floss efficiently. This increases your risk for problems like cavities and gum disease. Invisalign can help line the teeth up more properly.
What Are the Benefits of Invisalign?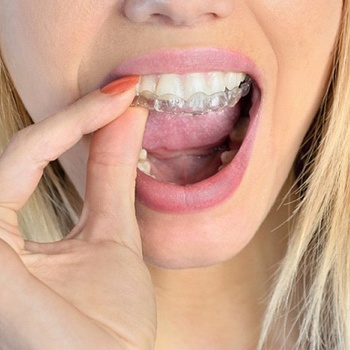 When compared to traditional metal braces, Invisalign in Hampton offers a whole host of benefits, such as:
Speed
While traditional braces usually require 24 to 36 months to complete treatment, Invisalign can often be finished in a year or even less. Moreover, Invisalign patients will need to visit the office much less frequently, for much shorter appointments. Simply come see us once every six to eight weeks to check your progress and get your new aligners.
Safety and Comfort
The brackets and wires of traditional braces can cause some discomfort to the teeth as well as the soft tissues in the mouth. Invisalign's aligner trays are made of smooth plastic, ensuring they won't irritate the gums as they gently shift your teeth into their proper alignment.
Cosmetic Appeal
Even if you get clear or tooth-colored bracket and wire braces, they will still be noticeable in your smile. Invisalign aligners are 100% clear, thus making them perfectly undetectable when you grin. At any stage during your treatment, you can smile confidently with the knowledge that no one will notice you're undergoing orthodontic treatment!
How Much Does Invisalign Cost?
There are many factors that can influence the final cost of your Invisalign treatment, such as your age, your dedication to wearing your aligners, and the severity of your case. In general, Invisalign treatment costs about the same as traditional braces. Ultimately, it's impossible to give you a precise cost estimate without your coming in for a consultation.