April 6, 2021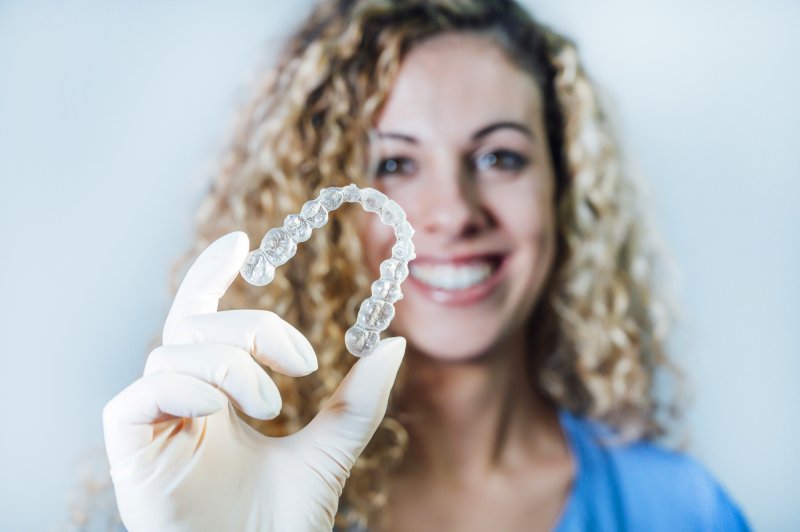 Invisalign in Hampton may be the route you wish to take when it comes to straightening your teeth. The idea of bulky metal brackets and wires sounds unappealing, especially as an adult. But do you know what to expect before, during, and after your time with clear aligners? A local dentist shares the step-by-step process and what you can prepare for when beginning orthodontic treatment with Invisalign.
First Step: Your Consultation
Before starting Invisalign, you will first need to schedule a consultation with your dentist in Hampton. It is during this appointment that they will examine your oral cavity and identify the problem area(s). Whether it is overcrowding, spaces between teeth, or a minor bite alignment, they will determine if you are a qualified candidate before formulating a personalized treatment plan. They will also use the iTero Element 5D scanner, which replaces cold, messy dental putty with highly-accurate impressions. These are then sent off to an Invisalign lab where your customized trays will be created.
Second Step: Receiving Your Aligners
After several weeks, you will return to your dentist's office to receive your Invisalign aligners. If necessary, you may have "buttons" placed on your teeth to help hold your trays in place and ensure the appropriate amount of pressure is placed to keep teeth moving in the right direction. During this appointment, we will provide you with your entire set of aligners and go over how long to wear each set before swapping them out for the next in the series. Typically, you will be expected to wear your trays for 20-22 hours each day for 1-2 weeks at a time.
Third Step: Maintaining Follow-Up Appointments
Although your follow-up appointments will not be nearly as long as those who must wear traditional metal braces, they are still necessary, as your dentist will need to monitor your progress. Since there is no wire to adjust, they will examine the movement of your teeth and make sure no problems are developing throughout treatment.
Fourth Step: Adjustments
Once you are finished with Invisalign treatment, you may need an adjustment or refinement. This means a few additional steps may be necessary to move your teeth into their final position. It is rare for a patient to undergo more than one or two refinements, and it is possible you may not need one at all. It will ultimately be up to your dentist to decide.
Fifth Step: Receiving Your Retainer
The final step in the Invisalign process is having any buttons removed from your teeth and receiving your customized retainer. Similar to your aligners, this oral appliance will help to keep your newly aligned teeth in their current position. Otherwise, they can shift back into their original spot, effectively undoing all your hard work. It may be necessary to wear your retainer full-time for the first six months; however, it is then that you may be able to wear it only at night while sleeping. Your dentist will discuss the proposed plan with you during your visit.
Invisalign aligners do not require a substantial change in your day-to-day life. Because of their flexibility, you can expect an easy, enjoyable orthodontic experience that leads to beautiful, long-lasting results.
About the Author
Dr. Neelima Ravi completed dental school in her native India before moving to the U.S. and completing her education at the Boston University Goldman School of Dental Medicine. Earning her Doctor of Dental Medicine in 2005, she is part of the Academy of General Dentistry's Master Track Program and undergoing various specialties. She and her team at Oceanside Family Dental are pleased to offer a variety of dental services, one of which is Invisalign. With the goal to straighten teeth and realign bites, Dr. Ravi is thorough in her examinations and explanations, allowing patients to make well-informed decisions about their desire for orthodontic treatment. If you are considering Invisalign but want to know more about the process, contact us at (603) 926-1551.
Comments Off

on Your Path to a Straighter Smile: The Step-by-Step Invisalign Process
No Comments
No comments yet.
RSS feed for comments on this post.
Sorry, the comment form is closed at this time.