Posts for tag: cosmetic dentistry
By Oceanside Family Dental
June 18, 2019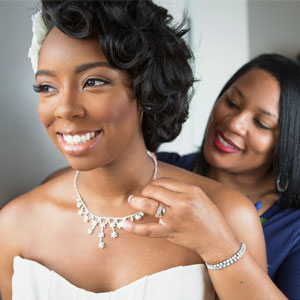 Since the early Roman times, couples have prized the month of June as the most favorable time to exchange their marriage vows. If you and your betrothed are planning a June wedding this season, you no doubt want everything to be beautiful. That would include your smile—and with the appropriate techniques we can help you make it as bright and attractive as possible.
Here are 5 ways to a more attractive wedding day smile.
Dental Cleaning and Teeth Whitening. A routine dental cleaning right before the ceremony can remove stains and dental plaque that dull your teeth's appearance. For an added level of brightness, we can also whiten your teeth in time for your big day.
Repairing defects with bonding. Do you have a chipped tooth, or a broken or discolored filling? We may be able to repair minor defects like these in a single visit by bonding lifelike dental materials directly to the tooth. We color-match and sculpt these materials so that they blend seamlessly with your natural teeth.
Advanced enhancements. In whatever ways your teeth may be flawed, there are dental solutions to transform your smile. We can correct minor to moderate chips, stains or slight gaps with porcelain veneers that cover the teeth's visible surface. We can cap a viable but unsightly tooth with a life-like crown. Missing teeth? A fixed bridge or dental implants could restore them like new.
Plastic gum surgery. Teeth may be the stars of your smile, but your gums are the supporting cast. Smiles with too much of the gums showing can be corrected through various techniques, including periodontal plastic surgery that reshapes the gums and can help the teeth appear more prominent.
Orthodontics. The original "smile transformer," braces and other orthodontic methods move misaligned teeth to better positions. Not only can orthodontic treatment result in a more attractive appearance, it can improve overall dental health.
You have an array of options for enhancing your wedding day smile, and we're more than happy to help you develop an individualized treatment plan. One caveat, though: some of these techniques could take weeks or months to complete, so don't delay!
If you would like more information about what you can do to have the most attractive smile for your wedding day, please contact us or schedule an appointment for a consultation. To learn more, read the Dear Doctor magazine articles "Beautiful Smiles by Design" and "Planning Your Wedding Day Smile."
By Oceanside Family Dental
November 02, 2016
If you've always dreamed of a that bright, flashing Hollywood smile in Hampton, NH, it may be a good time to contact Dr. Neelima Ravi
at Oceanside Family Dental clinic. Dr. Ravi will show you that getting your perfect smile isn't impossible. In fact, it's probably much easier than you think.
Oceanside Family Dental offers a variety of cosmetic dentistry services that can help you get the smile of your dreams. Cosmetic dentistry refers to procedures meant to improve the appearance of teeth rather than restoration, repair or treatment of tooth decay. People who have chipped teeth, misshapen teeth, stained teeth or other such appearance issues can consider any of a number of options ranging from simple whitening procedures to veneers and even implants.
Your Hampton dentists offer a number of these services, including but not limited to:
Whitening – a procedure during which the dentist applies a bleaching or whitening agent directly to the teeth. This is a non-invasive procedure that can be done in office or at home. Prescription whiteners will be more effective than over-the-counter whiteners.
Bonding – in a bonding procedure, your dentist will use a resin type tooth colored material to fill minor gaps and/or repair minor flaws such as chips. This is done in office and is not invasive.
Contouring or reshaping – in this procedure your dentist will fix chipped or flawed teeth by carefully removing a tiny bit of tooth enamel from a tooth or several teeth. This can be done to even up teeth or remove small flaws to improve your smile.
Veneers – Veneers are ultra-thin tooth colored covers that your dentist designs specifically for your needs. The dentist will remove a very thin layer of enamel, then apply each veneer permanently to the front of each tooth. Veneers can last for many years before they need to be replaced.
If you are seeking that perfect smile or are looking for a qualified, caring dentist in the Hampton, NH area, call Oceanside Family Dental at (603) 926-1551.